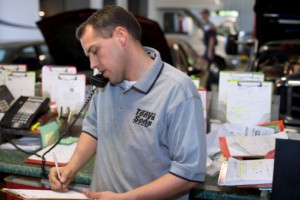 If you're like most of the automotive service and parts professionals I speak with every day, you know that there are dozens of things you should be doing to help market and promote your business, but you're simply too busy to get them done. You're probably also tired of all the jerks cold calling you promising to get you ranked on Google.
There are dozens of highly effective marketing activities you could be doing to keep your business growing, but the simple fact is that it's not a 'one-size-fits-all solution', you need to tell me about your business so I can recommend what you NEED, not what someone wants to sell you. I have over 16 years of experience helping automotive service and parts professionals just like you get things done, and in most cases these projects have helped my clients become more profitable. The reality is that in today's competitive business environment, you can't afford to coast along at your current level of business performance – you need to constantly look for the edge that will ensure more business growth in the future.
To stick your head in the sand and ignore the fact that your business could and should be doing better is like taking money out of your pocket and handing it over to your competitors – letting them walk away with the market share, increased revenue, profits, and opportunities for personal and career growth that you deserve! You must drive your business for growth as if your future depends on it – because it does! But if you are unsure how to do that, I think I know why… The reality is most auto body shop owners are not even aware of the 4 fundamental drivers of business growth… and it's costing them!
What are the 4 fundamental drivers of growth, you ask?
There are four areas every small business needs to plan for and optimize to maximize their growth potential; Reputation, Reach, Resell and Referral